If you like pizza for breakfast, please stand up!
Leftover pizza in the morning still tastes pretty darn good, doesn't it!!  The below quiche recipe is also pretty tasty.  Created with a punch of protein to start the day off the right way.  Quiche's are my go-to for bulk breakfast prep for those extra busy days.  For this recipe I used sprouted whole wheat flour to really tie together the pizza theme and flavors.
Nature's Multivitamin & Perfect Protein
Eggs are powerhouses of protein, healthy fats, vitamins, and minerals.  The protein from an egg contains all NINE essential amino acids.  Essential amino acids are the ones the body can NOT make on its own.  Amino acids overall are responsible for helping us build, repair, and maintain skeletal muscle and other body tissues.  Each amino acid has a specific role.  For example: methionine helps breakdown fats so that the body can utilize it as fuel, leucine is famous for helping regulate blood sugars levels, and lysine maintains nitrogen balance in the body and is essential to produce antibodies and hormones.  We must get these essential amino acids from diet.  The nine essential amino acids are:
histadine
isoleucine
leucine
lysine
methionine
phenylalanine
threonine
tryptophan
valine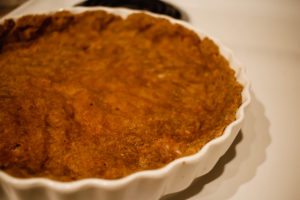 Eggs contain ALL the essential amino acids!  Hence nature's perfect multivitamin and complete protein.  All animal proteins are complete proteins.  If one's diet is does not contain any animal proteins, this is where supplementing can provide great benefits.  When I am nutrition coaching my clients one of the first things I educate on is the importance of eating whole foods.  Our body's are meant to receive nutrition straight from the source. Eating locally, sustained, and in season foods is even better!!  Our body's breakdown, absorb, and utilize nutrients from food differently than we do from supplements.
---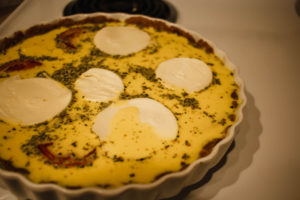 The Caprese Quiche is light, nutritious, and brings the island-y Italian flavor of Capri to your breakfast.  It tastes just as good cold and on the go as it does fresh out of the oven.  The fresh basil and fancy glaze make this feel way more gourmet than it really is.
---
Ingredients
Quiche Crust:

1 1/4 cups Sprouted Whole Wheat Flour + 2-3 Tablespoons
3/4 tsp salt
3 Tablespoons Grassfed Unsalted Butter
6 Tablespoons of Organic Coconut Shortening
1/4 cup chilled water

Egg Bake:

8 Large Organic Eggs
1 cup Raw Milk or Organic Half and Half Cream
2 Tbsp. Frontier Co-op Pizza Seasoning
1-2 Large Organic Heirloom Tomato
1 Handful of Organic Basil
7-8 Round Slices of Mozzarella Cheese
TOPPING: 2-3 Tablespoons of Balsamic Glaze
Instructions
Prep work:

Make the quiche crust a day ahead of time, ideally, to let it chill.
Preheat oven to 350 degrees F.
Roll out the crust or press the crust into place in quiche dish and cook for +/- 12 minutes
Thinly slice tomatoes and the mozzarella
Remove stems from fresh basil

In the KtichenAid:

Whip all eggs together
Add cream and pizza seasoning

Quiche:

Pour mixture in the quiche crust
Place sliced tomatoes and mozzarella evenly on top
Bake for +/- 30 minutes, check quiche at 25 minutes
Remove, let cool for 5 minutes, and fresh basil and balsamic glaze before serving!
https://enlightenthislife.com/caprese-breakfast-quiche/
www.enlightenthislife.com