Gluten Free Alternatives
There are numerous gluten free choices out there these days for breakfast!  If you're the breakfast cereal type…most cereals have a gluten free alternative now.  You can even make sure you choose the certified gluten free oats too.  FYI oats are naturally gluten free, but if you have a severe gluten allergy or have Celiac Disease you will want to make sure they are not packaged in a facility that also processes wheat, barley, or rye.  Many of the gluten free choices are still full of corn or other grains.  Sweet potatoes and other veggies offer a better nutritional profile and are more nutrient dense.  Sweet potatoes are considered a complex carbohydrate (fiber and starch are the two types of complex carbs) and they are easily broken down by your digestive system.  TWO OUNCES of sweet potato provides you with:
2 grams of fiber
1 gram of protein
11 grams of carbohydrates
Depending on how thick you cut your Sweet Potato Toast this is an amazing alternative.  Choosing foods that do not contain wheat helps reduce inflammatory processes in the body.  This is ideal for those of you who are trying to stay lean, lose body fat, and reduce systemic inflammation!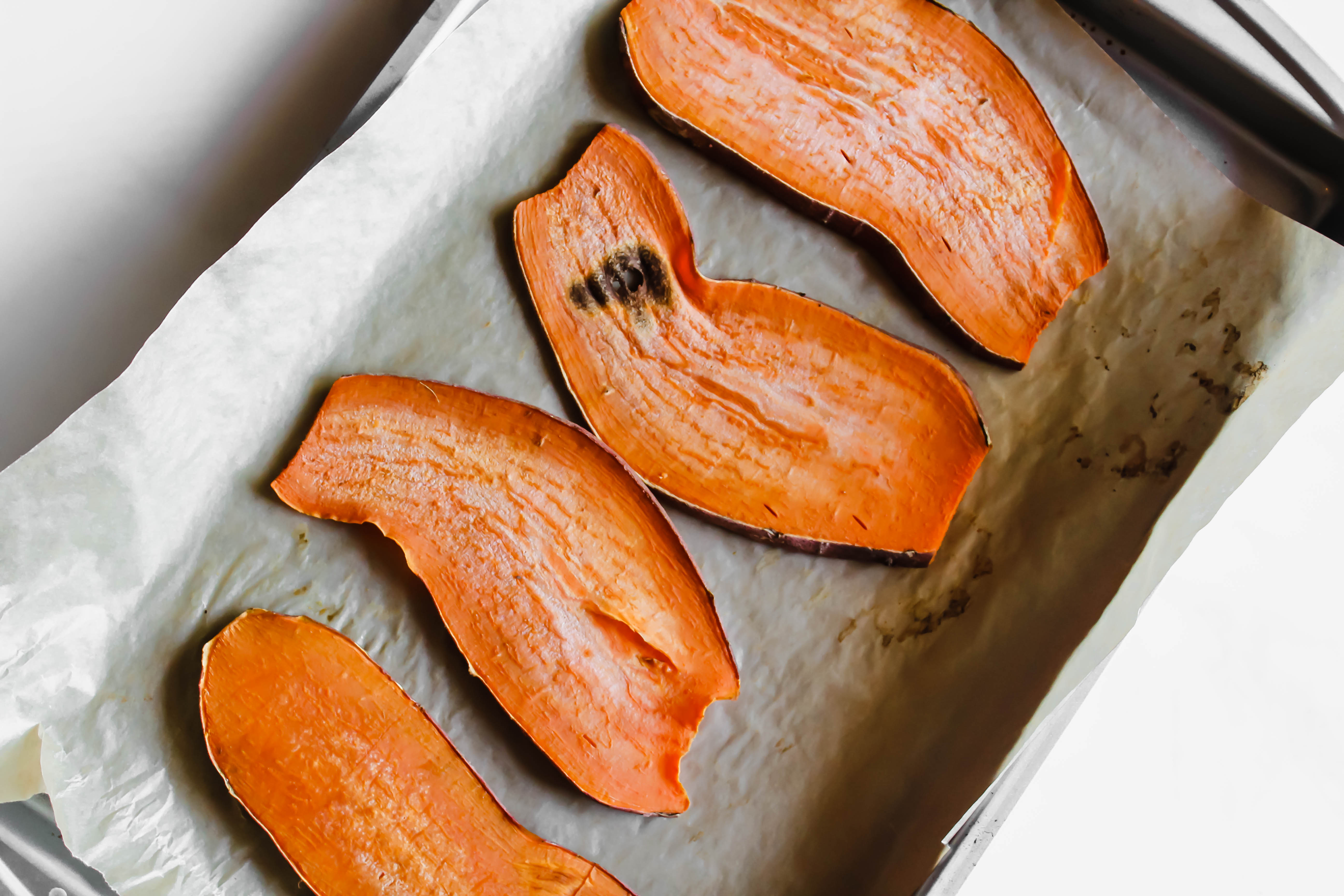 Nutritional Yeast
Nutritional yeast is one of the not-as-common toppings in the FOUR WAYS you can try Sweet Potato Toast.  What is it?  Do not be fooled by the name, it is actually an inactive form of yeast.  It is not the kind you would use for baking.  Nutritional yeast offers a HUGE punch of B-vitamins!  It contains B1, B2, B3, B6, B9, and B12!  Whaaaaaat?!  Yup.  It also provides iron, zinc, and selenium.  Another spoiler alert, nutritional yeast has antiviral and antibacterial properties.  Feel free to start sprinkling it on your meals regularly for a boost of energy and to utilize its protective properties.
Nutritional yeast contains vital food factors such as SOD, RNA/DNA, glutathione, trace minerals, Beta-glucans, GABA, amino acids, lipoic acid, polysaccharides, B-complex vitamins, minerals including GTF chromium and over 40 proteolytic enzymes. I would call that a powerhouse superfood! – Dr. Josh Axe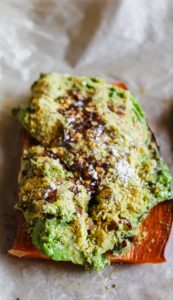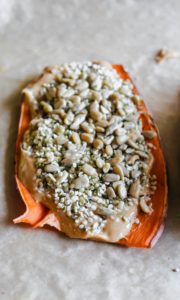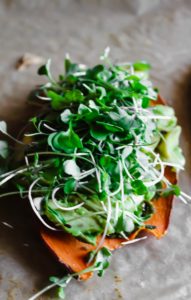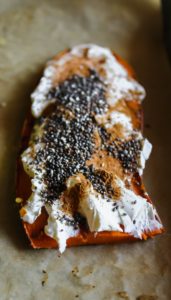 Ingredients
One Large Organic Sweet Potato

Option 1:

1 Organic Avocado Smashed
1 Tsp. Nutritional Yeast
1/2 Tsp. Red Pepper Flakes
Dash of Sea Salt
Dash of Pepper
1/2 of Fresh Lemon Squeezed

optional: add fried egg on top

Option 2:

1 heaping Tbsp. Organic Cashew Butter
1 Tbsp. Organic Hemp Seeds
1 Tsp. Organic Sunflower Seeds

Option 3:

1 Organic Avocado Smashed
1/2 Cup Microgreens
1/4 Cup Pomegranate Seeds

optional: add fried egg on top

Option 4:

2 Tbsp. Organic Cream Cheese
Dash of Organic Cinnamon
Dash of Organic Nutmeg
1/2 Tsp. Chia Seeds
Instructions
Preheat oven to 400 F.
Wash sweet potato.
Slice the long way into thin, toast-like pieces.
Place pieces on a parchment paper lined cookie sheet.
Bake for 7 minutes and check with knife if cooked through. Depending on thickness you may need to flip and cook for a few more minutes until done!

Choose one of the options above, sprinkle the toppings, and create your Sweet Potato Masterpiece.
https://enlightenthislife.com/sweet-potato-toast-4-ways/
www.enlightenthislife.com