Crock Pot / Hot Pot Life
If you do not have a crock pot or a hot pot yet, you are missing out!  These awesome kitchen gadgets will make your meal prep so much smoother.  Shredded chicken is the most made item in my crockpot.  Bone broth and vegetable stock are a close second though.  I like to have a Pyrex container of shredded chicken on hand for the week.  This is perfect to add on top of a bed of greens or transform into a cold salad, like the recipe below.  I tend to prefer using the crock for bulk prepping chicken versus grilling or any other method.  I have found that shredded chicken stays fresh longer and does not dry out when I prep it this way.
Nutrition Facts
Six ounces of crockpot chicken is roughly four grams of fat, 38 grams of protein, and zero grams of carbohydrates.  I do not always count my macros, but for those of you that do this may be helpful!  Another perk to prepping chicken breast this way is that you will not be using any oils, butters, etc. to cook it in over the stove.  As mentioned above too, when it cooks in water in the crockpot or hot pot it will not dry out.
For this recipe I chose my favorite dairy free avocado oil based mayo (Primal Kitchen) and Cholula, which is sugar free. 🙂 🙂  I added a little crunch and texture with fresh and raw veggies.  This recipe can be filed under high protein and high fat!  These healthy fats will sustain and fuel you much longer than any sugar-loaded meal.  Healthy fats also support balanced blood sugar levels. WIN WIN WIN ♥ Serve these in a lettuce keep if you're feeling a little #extra !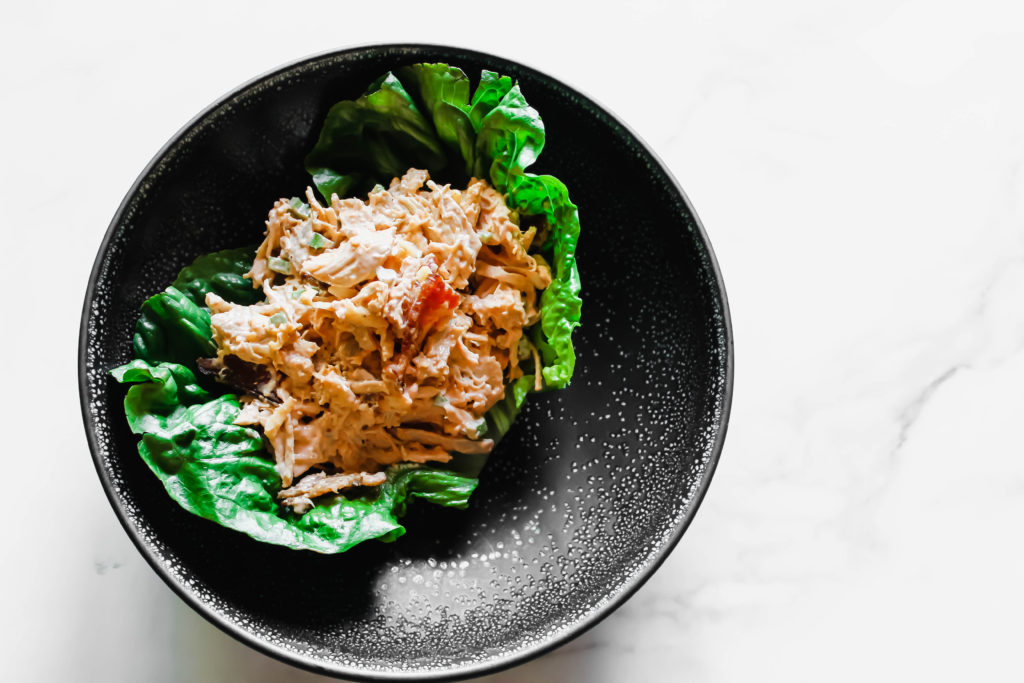 ---
Ingredients
1 1/2 lbs Organic Chicken Breasts
2/3 cup Primal Kitchen Mayo
1/3 cup Cholula Original Hot Sauce or your choice of Hot Sauce
3 stalks Organic Celery
3 large Slices of Bacon
1/2 cup Organic Shredded Cheddar Cheese
1 tsp. Himalayan Salt
1/2 tsp. Organic Black Pepper
Instructions
Place chicken breasts in the crock pot on high for 15 minutes, then place on low overnight
Remove from crock pot and shred with two forks
Cook bacon over the stove
Remove bacon from pan when cooked and press extra grease out with a paper towel, dice or crumble bacon into smaller pieces
Clean celery in an ACV wash
Slice and dice the celery sticks and set aside
Mix mayo, hot sauce, salt, and pepper together then add to chicken and mix thoroughly
Fold in bacon and cheese
Serve in a lettuce cup or eat as is 😉
Store in Pyrex
https://enlightenthislife.com/buffalo-chicken-salad/
www.enlightenthislife.com