Garbanzo Beans
Garbanzo beans are high in protein and a great source of fiber!  They are an excellent way to add protein to a meal or snack for those of you who do not consume animal protein.  Half a cup of garbanzo beans, otherwise known as chickpeas, contains:
6 grams of protein
6 grams of fiber
2 grams of fat
20 grams of carbohydrates
They also contain vitamins, minerals, and are especially high in: folate, phosphorus, iron, and manganese.  Because of their nutritional breakdown, they would be great post workout.
4 Ways to Incorporate Garbanzo Beans
This tasty hummus recipe is a perfect example!  For this recipe I wanted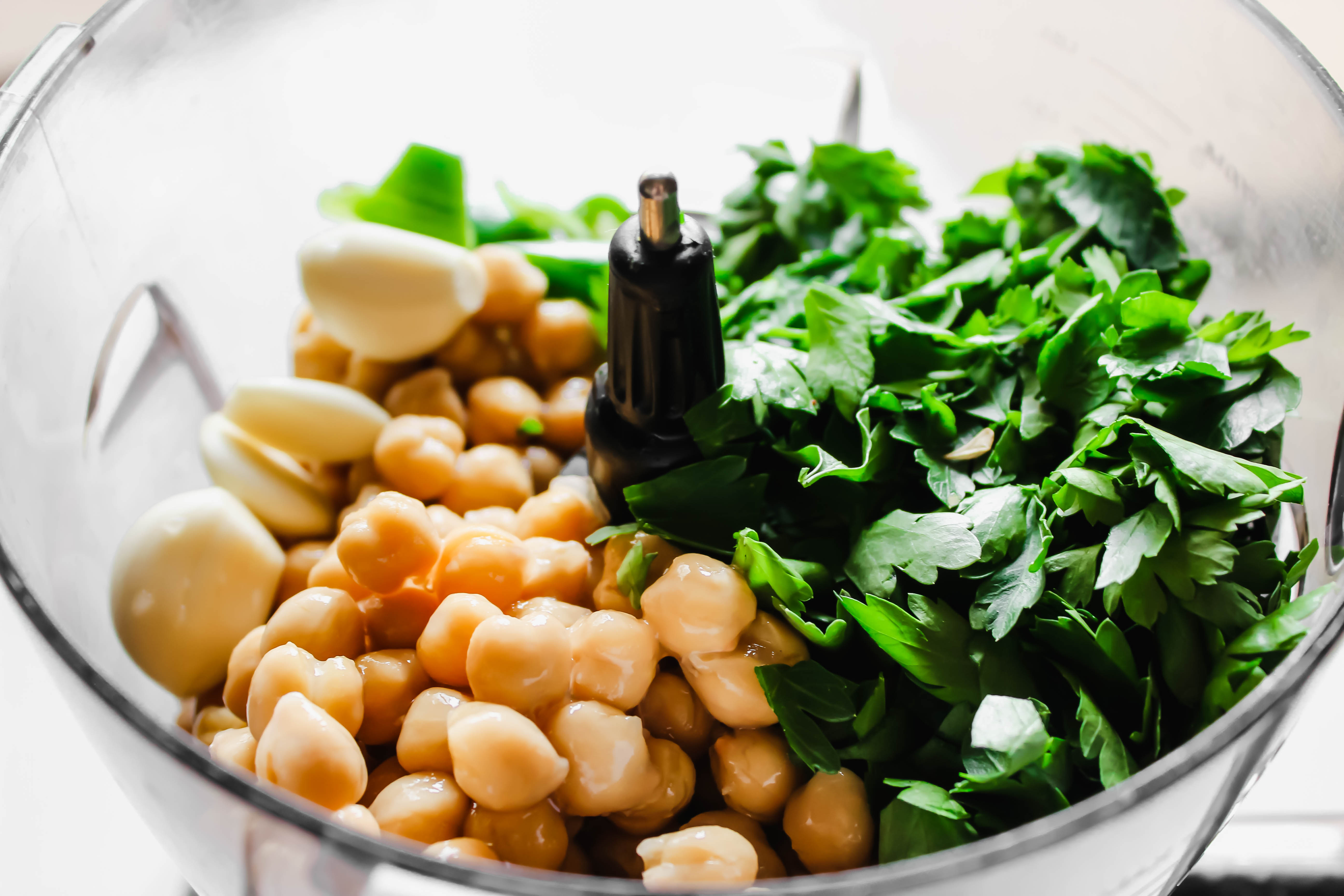 to give it a little punch!  I added fresh parsley, raw garlic, fresh lemon juice, and a jalapeno to give it a lot flavor.  The tahini is what helps make it extra creamy and smooth.  Pair it with some raw veggies or my new favorite Lentil Chips for a little crunch.  Many hummus recipes revolve around chickpeas.  They are part of the legume family, are fairly inexpensive, and store very well.
Roasted Chickpeas are a phenomenal snack and can be seasoned a multitude of ways to keep it interesting.  Add cooked chickpeas to your salad for a boost of protein and fiber.  Transform your soaked chickpeas with a food processor or Ninja!  Add some herbs, veggies, and flour to create a Chickpea Falafel.  There are numerous ways to add these little guys to a meal!
Creamy Jalapeno Parsley Hummus
Ingredients
2 Cans (15.5 oz/can) of Organic Chickpeas OR 1 cup of Organic Dried Chickpeas
5 Cloves of Garlic
1 Cup of Organic Chopped Fresh Parsley
1 Jalapeno
2 Tbsp. Organic Tahini
1/2 Organic Lemon
* Ninja or other Food Processor*
Instructions
If you are using dried garbanzo beans soak them overnight in a salt water solution, then drain
Remove stems and chop parsley
Slice open the jalapeno and remove seeds and stem
Place drained chickpeas, parsley, jalapeno, and garlic cloves in the Ninja and blend until smooth, you may have to use a spatula to scrape down the sides and blend again.
Add tahini and freshly squeezed lemon juice and blend until ultra creamy!
Serve with you choice of raw veggies, chips, or use as a spread. 🙂
https://enlightenthislife.com/creamy-jalapeno-parsley-hummus/
www.enlightenthislife.com