Adventures!
Some of my favorite activities are random adventures!  Hiking, biking, day trips, etc.  One of the reasons I enjoy living in Arizona is because there are endless adventures everywhere I go.  It is extremely easy to find a trailhead or throw my bike on top of the car and head out for some outdoor sunshine and exercise.  The amazing weather nearly year 'round certainly helps make these adventures happen frequently!!
The "Go Box"
I have had quite a few people ask what brand hammock I have? What kind of hiking shoes I wear?  What is my go-to camping gear, bike equipment, etc.  I found myself always having the same few things somewhere in my car.  If you know me, I love good organization too!  Inadvertently, I have come to have a "go-box" in my backseat.  I will share with you what I keep in my "go-box" on a day-to-day basis.  My camping "go-box" is definitely much bigger and full of even more tested and true goodies!  I'll save the camping "go-box" for a separate post.
This post I am going to share with you a few of my favorites that I use regularly! Before you ask, REI has not sponsored this post, but man that would be #goals  😉  REI is 100% my go to, brick and mortar, store when I am looking for new equipment, apparel, etc.  If you do not have a REI membership, go get one!!!!  Since it is a co-op you will receive dividends every year that you can spend on new adventures goodies.  I purchased my Thule bike rack at REI and that was probably one of the most useful things I've ever bought.  Nothing is more stressful than shoving a bike in the back of the car when its dirty and doesn't fit well, ha!
Take advantage of their Garage Sales.  They hold a couple of these every year and you can find some amazing products, apparel, and gear for such a good deal.
Some journeys take us far from home.  Some adventures take us to our destiny. – C.S. Lewis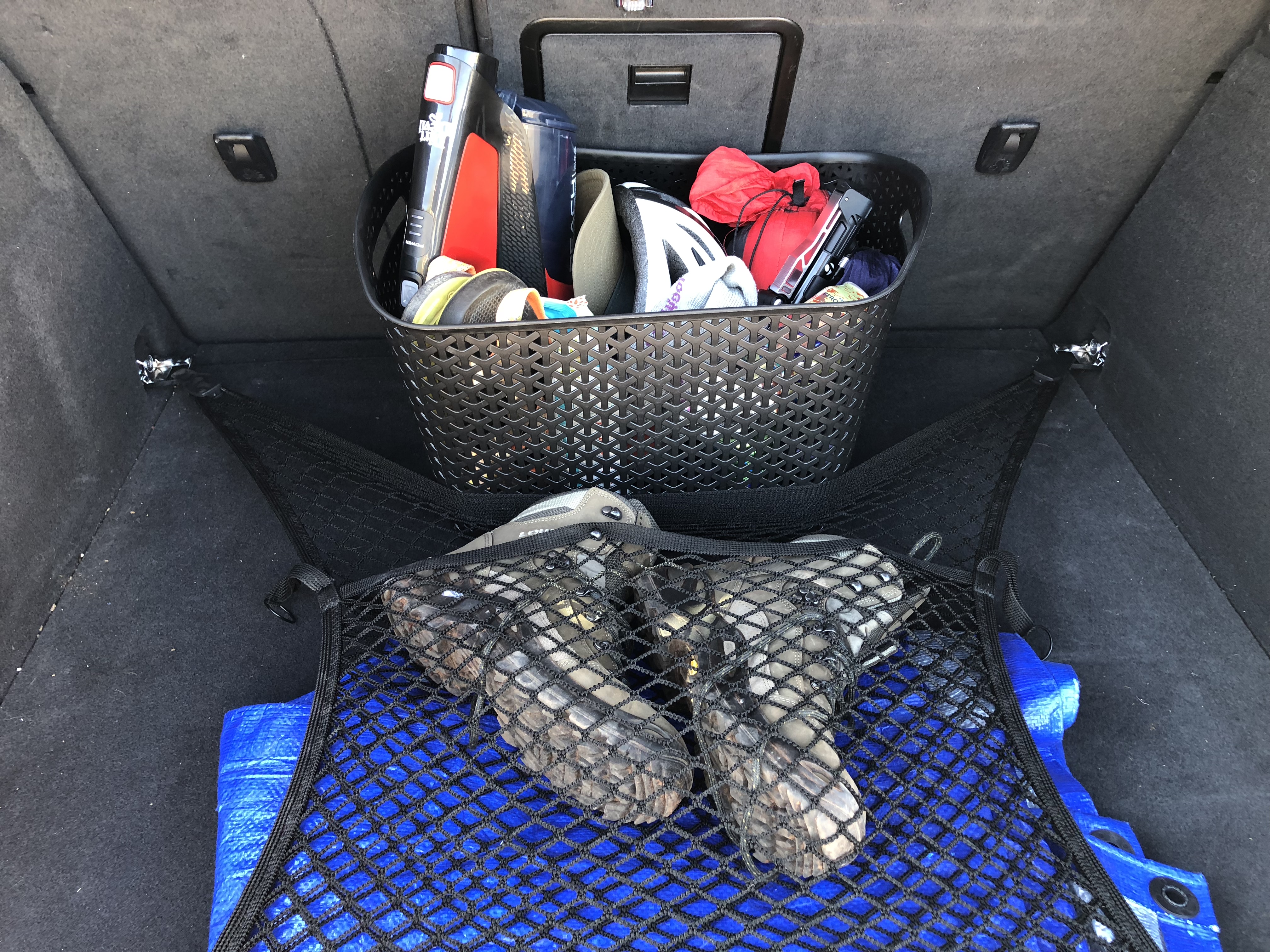 Top 10 Must Haves
A good pair of HIKING SHOES/BOOTS are a must!  Your feet will pay the price if you don't have a comfortable and supportive pair.  I love my Chaco sandals.  I will tighten them up depending on the hike and I find myself wearing these the most.  These are literally the best if you anticipate hiking through any water…trust me.
However…there are certain terrains and hikes that I prefer a more sturdy and stable boot!  I recently invested, I say invested because they weren't cheap but extremely worth it, a pair of Lowa's hiking boots.  They are awesome.  I wear these when I am mountain biking too!  
You can never go wrong 

SMARTWOOL SOCKS

!

  No matter the season, you won't regret having these around, and they last forever.  FYI: Merino wool works with your own body's heating and cooling system.  They can be both insulating and cooling depending on your body temperature. They are also made in the USA, win win win!!
A solid BIKE HELMET is clearly a necessity.  I would like to try to keep my coconut intact.  Whether I am in the biking lane or romping through the desert… I am wearing a helmet.  Keeping a hat around is clutch when I end up with helmet head too 😉
I use my HEAD LAMP more during my camping trips, but it tends to stay in the "go-box" incase I end up on late afternoon bike rides when the sun is going down.
I bike quite often, so I keep a couple BASIC BIKING TOOLS in the "go-box".   I have a Mini Bike Pump and a Multi-tool just in case.  The 19 in 1 tool is super similar to my Leatherman tool!
HAMMOCK -ing is under-rated in my book.  It is truly one of the most relaxing activities.  Find a couple good anchor points, a good book, and post up for some self-care time!  I have had my

Eno Hammock for years and love it!  If you buy one do not forget the Atlas Straps .
SNACKS!  The refuel is important!  I tend to work up an appetite after a few hours of adventuring.  La Croix waters, Rx Bars, and Trader Joe's Trail Mixes have never steered my wrong.  These are just examples of what usually ends up in the "go-box".  My favorite snack is homemade granola!
HONEST BABY WIPES are the perfect thing to help clean yourself up but also work well to wipe down any equipment or your car!  I like these because they are toxin free, plant-based, hypoallergenic, do not have preservatives, or any synthetic fragrances in them!
AND LAST BUT CERTAINLY NOT LEAST
This CORDLESS VACUUM that has managed to stay in the car lately because it helps clean up all the dust and dirt that accumulates 😀 I guess that is part of living in the desert…dust and sand e v e r y w h e r e!!  Mine is a Dirt Devil and certainly does the trick!  There is no better feeling than cleaning everything back up after an amazing adventure.  The cordless feature is a lifesaver!  Half the time I am no where near a vacuum let alone an outlet to help get all the dirt and debris.  Let's be honest…baby wipes only go so far when it comes to cleaning up and wiping down.  You can easily empty it out right away so the dirt, food crumbs, or what not does not stink up the car!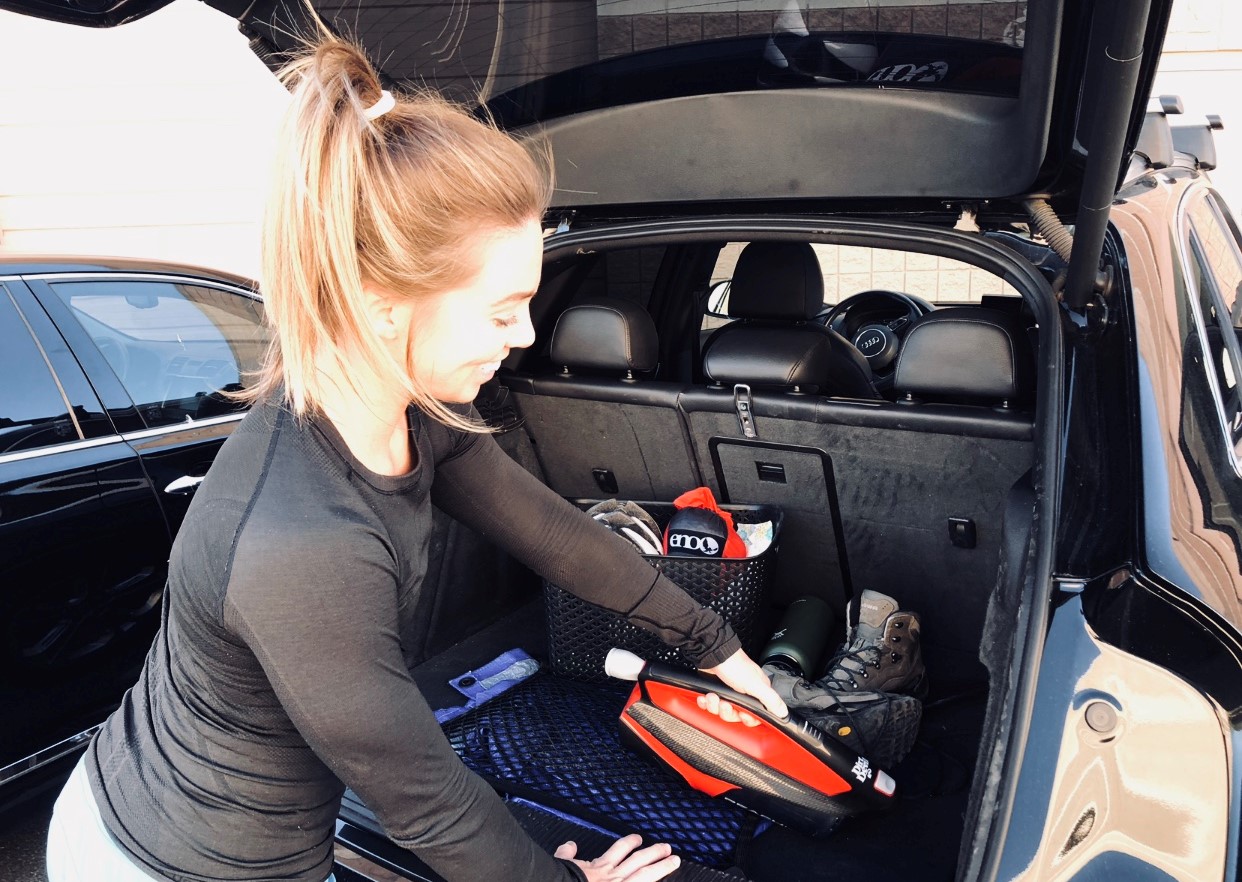 I feel as though I could easily make this into a top 15 or 20 list! HA! Honestly, these things never leave my car and have proven their longevity over the years!  Adventuring is one of my favorite activities to do and when I am prepared and ready to hit the trails on the fly… it brings me so much joy!  I hope you are able to the beautiful outdoors, nature, and God's creation this weekend!
All good things are wild and free. – Henry David Thoreau